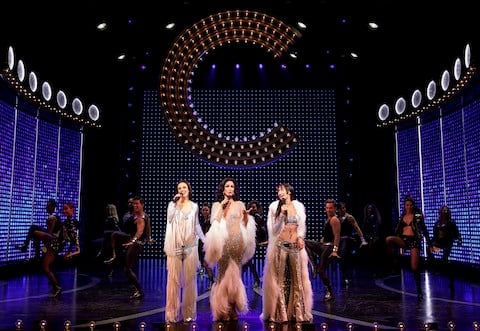 It's a paradox of the biomusical that reducing an iconic life story into a tidy two acts necessarily flattens its subject. When that subject is a living producer of the show, experiencing a career renaissance at age 72, you can count on seeing the version of that story she would like you to consider her legacy.
In the case of The Cher Show, which opened at Broadway's Neil Simon Theatre tonight, fortunately that includes plenty of what Cher fans hunger for most — robust, soaring vocals; brassy, bemused attitude; and spectacular fashions courtesy of her longtime collaborator Bob Mackie.
The latter nearly steal the show outright. A brisk showcase of Mackie's most recognizable and outlandish looks for The Sonny & Cher Comedy Hour receives the first act's most rapturous ovation. (The wardrobe department ought have the final bow for seamlessly executing dozens of changes throughout.) It's a testament to the knockout talents assuming the lead role that the lavish designs don't swallow them whole.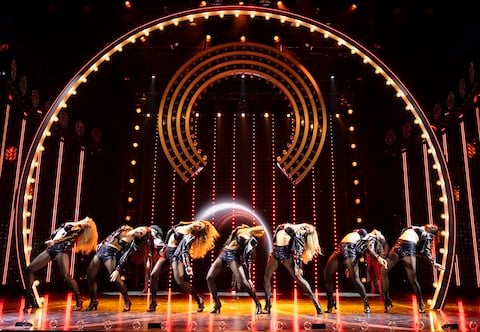 It takes three women to play the larger than life entertainer, each one embodying Cher at different stages in her career (Summer: The Donna Summer Musical attempts a similar conceit, though far less successfully). Book writer Rick Elice, whose script for Jersey Boys remains the genre's gold standard, makes the smart if surreal choice to put the three Chers in conversation, each one speaking from her own perspective with the dreams and wisdom that wax and wane with age.
It's a bit like if Albee's Three Tall Women were rock goddesses who enjoyed the occasional quaalude.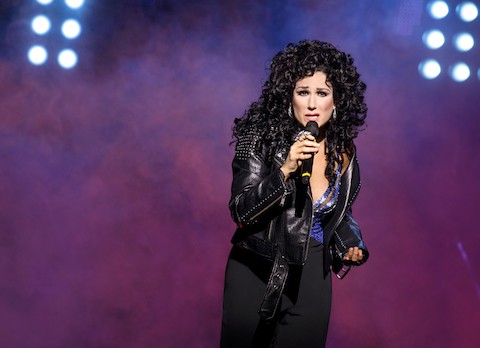 As full-grown Cher and the show's self-referential narrator, Stephanie J. Block may have at last found the sort of showy, outlandish star vehicle perfectly suited to her off-center talents (fans may remember she's also played Liza, in The Boy From Oz). Block traces every emotional fold in 1972's "The Way of Love" as Cher's audition for Robert Altman, on the occasion of her Broadway debut opposite Kathy Bates. Block also makes light work of at times hokey meta framing, as in the opening sequence — "If only I could really turn back time. Oh wait, I can!" — featuring one of the singer's most beloved hits.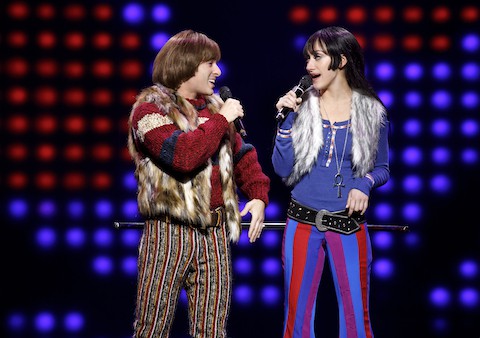 We first meet a young, wide-eyed Cherilyn (Micaela Diamond in a stunning Broadway debut) in "the Father Knows Best 1950s, somewhere in southern California." The pop-up book aesthetic of Christine Jones' scenic design for this scene signals the start of a fairy tale — Cherilyn emerges from seeing Disney's Cinderella on the big screen to declare she wants to be a star, shortening her name to "Cher" as she scrawls it out on an imaginary Walk of Fame. Fathers come and go; it's Cher's indomitable mother who knows best.
The story accelerates in fits and starts under Jason Moore's nimble direction, skimming over certain bits with clever alacrity (as when the different facets of Cher self-reflect in conversation), and lingering over others that have clearly become lifelong preoccupations.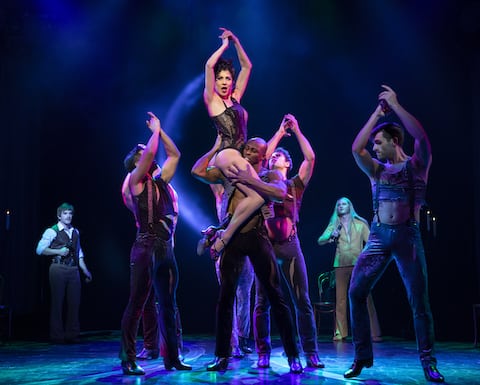 Pretty soon we're in Hollywood, where Sonny (Jarrod Spector, a vocal dead ringer) goes from moony lover and co-star to despot working Cher into the ground and dominating her financial fortune until just past intermission. A feud for Cher's heart between Sonny and Gregg Allman (of The Allman Brothers Band) features a virtuosic dance to "Dark Lady" (the vigorous, expressive choreography is by Christopher Gattelli).
Unlike its legendary namesake, The Cher Show doesn't venture too far outside the box — doing so runs counter to the project of self-mythologizing inherent to the form. By this point, celebrity narratives are familiar enough in their common course that we recognize the shorthand — from big break and the spotlight's harsh glare to fall and final redemption. It's all here, insofar as the musical's subject wants to reveal more than what we already know, or may have guessed. As for a deeper understanding of the artist, it's always been right there in the music.  
Recent theatre features…
Feel-Good New Musical 'The Prom' Wears a Big Heart on Its Puffy Sleeve – REVIEW
Broadway's 'American Son' Starring Kerry Washington Is the Most Vacuous Kind of Race Play: REVIEW
Michael Urie and Mercedes Ruehl Lead Transcendent Broadway Revival of 'Torch Song': REVIEW
Proof We #WontBeErased in 'Plot Points in Our Sexual Development' Off-Broadway: REVIEW
The Legacy of Gloria Steinem Burns Bright in 'Gloria: A Life' Off-Broadway: REVIEW
Stockard Channing and Glenn Close Make Magic of Maternal Strife Off-Broadway: REVIEW
'What the Constitution Means to Me' Is the Best Political Play of the Trump Era: REVIEW
Follow Naveen Kumar on Twitter: @Mr_NaveenKumar
(photos: joan marcus)