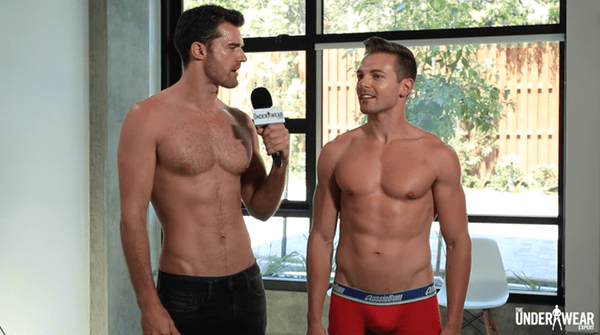 It's almost Friday, which means you deserve a little something to get you over the final hurdle of the week.
Enter, the latest installment of The Underwear Expert's web series "Boxers of Briefs?"
The new episode features shirtless Aussies including dancer Locky Brownlie and YouTuber Kaine Blake.
Previously, UE has talked with guys with hairy chests, cat lovers, Pokemon Go players, tatted up guys, hot yogis, shirtless fitness instructors, dog lovers, naked Tom of Finland models, shirtless parkour athletes, Democratic primary voters, dodgeball players, WeHo kickball players, DJs, dancers, CrossFit-ers, male models, and men on the street in Hollywood, WeHo, and Santa Monica about what they like to wear under their shorts.
Watch, below.