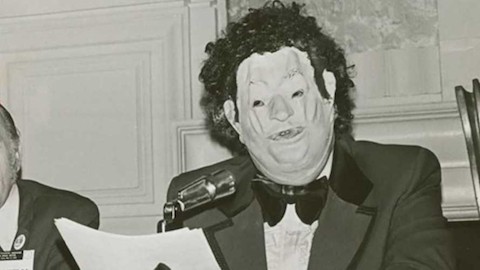 How do you start a civil rights movement when the rest of society thinks you're mentally ill?
It was a question facing queer people before we were even considered a community, much less one that could agitate for equal treatment.
The man responsible for the removal of homosexuality from the American Psychiatric Association's diagnostic manual of mental illness is the subject of a intimate and fascinating play by Ain Gordon, 217 Boxes of Dr. Henry Anonymous, currently running at the Baryshnikov Arts Center through May 11.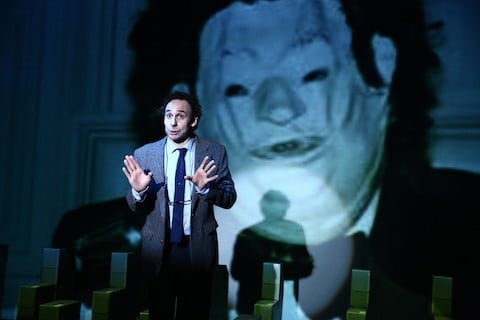 In 1972, Dr. John Fryer addressed the APA's annual conference with a daring personal speech that began, "I am a homosexual, I am a psychiatrist" — at a time when admitting as much likely meant sacrificing your livelihood. For the occasion, Dr. Fryer donned an oversized tuxedo and a rubber mask that obscured his entire face. He spoke through a voice-distorting microphone, all to hide his identity in service of what became a groundbreaking victory for gay rights.
Homosexuality was declassified as a mental illness the following year; it was 10 more years before Fryer revealed he was the man behind the mask. This year's APA conference, which coincides with the play's run produced by Equality Forum, marks the 45th anniversary of the landmark removal of homosexuality from the Diagnostic and Statistical Manual.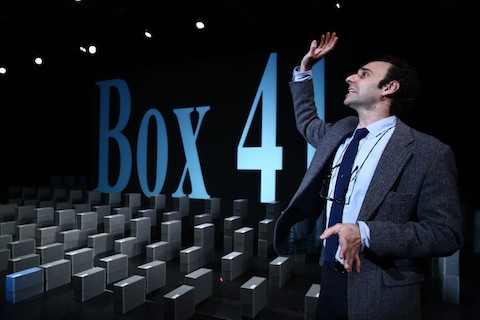 A commission by the Historical Society of Pennsylvania, Gordon's play is the result of his deep dive into the society's holdings of Fryer's personal papers — 217 boxes of everything from utility bills and patient records to letters from his parents and companions. Of the three characters who assemble a portrait of the man, none of them are Fryer himself.
Gordon's treatment of this extraordinary history pays some tribute to its subject's lore of anonymity, while shining new light on a pivotal figure often overlooked. An Obie-winning monologist, Gordon presents three characters who share their own personal stories while revealing the outlines of Fryer, including his impact on them and the broader currents of history.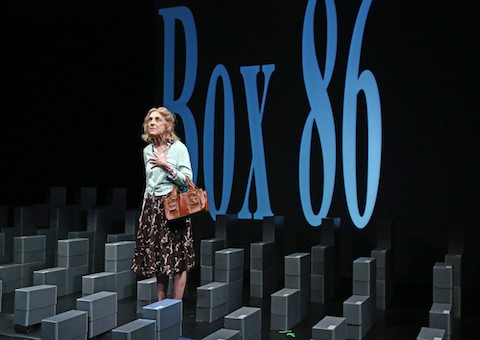 We hear first from a fellow gay psychiatrist and confidant, the "high swish" Alfred A. Gross (Derek Lucci), who speaks in a kind of Wildean lyrical prose, waxing over how the movement's  origins have colored everything that's followed, "Our vision is what enables you to now see where we were shortsighted," he says of a new generation's calls for greater inclusivity than is  encompassed in the term "gay rights."
Gross is followed by Fryer's secretary for the last 24 years of his life (delightfully embodied by Laura Esterman), who recalls the scores patients whose files she moved into storage as they succumbed to AIDS. Due to doctor-patient confidentiality, she can't tell us their names. But she can read us the 17 box numbers they represent among surviving papers of Dr. Fryer, who was a rare psychiatrist willing to treat ailing gay men before anyone knew why they were dying.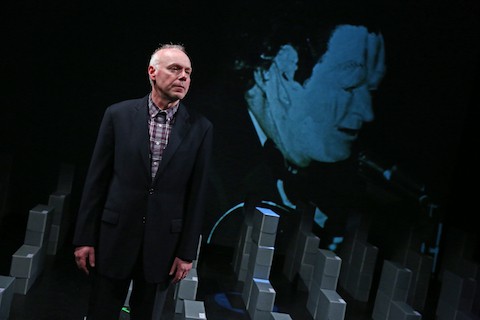 It's Fryer's father (Ken Marks), the final character, who reads to us his son's speech in front of legions of peers in the AP. "Rubber casing like a tunnel," his father imagines Fryer beneath the mask. "All sound, gulps, breath, your own words back to your ears like an echo — of judgment."  
"May I be a little understood," an arch Gross asks us earlier, "for reveling in how that oppression did also make me spectacular?" It's a striking reminder that remarkable feats — from Dr. Fryer's igniting of a revolution, to the everyday triumph of simply being yourself — thrive most in times of great resistance.
Recent theatre features…
The Most Wig-Snatching Snubs and Surprises of the 2018 Tony Nominations
In 'Transfers,' a Shot at Privilege Means Reckoning with Stacked Odds: REVIEW
Time's Up? Not So Fast: 'Carousel' Is Back on Broadway: REVIEW
Get in, Losers: The 'Mean Girls' Musical Is Fun as Hell: REVIEW
In 'Three Tall Women' and 'Yerma,' Stunning Portraits of Women on the Verge: REVIEW
Chris Evans and Michael Cera Are Men in Uniform in Kenneth Lonergan's Superb 'Lobby Hero': REVIEW
Andrew Garfield and Nathan Lane Star in Electrifying 'Angels in America': REVIEW
A Slushy 'Frozen' Opens on Broadway: REVIEW
Jimmy Buffett Serves up 'Margaritaville' on Broadway, Tequila Goggles Sold Separately: REVIEW

Follow Naveen Kumar on Twitter: @Mr_NaveenKumar
(photos: paula court)