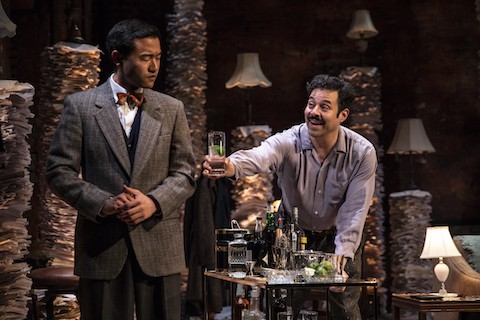 The most thrilling moment in The Gentleman Caller, which opened at the Cherry Lane Theatre last night, finds Tennessee Williams half dressed, nimbly undoing the belt of William Inge, snaking it out of his trousers, and tossing it behind the couch — using only his toes. This foot-forward seduction encapsulates the relationship between the two playwrights that Philip Dawkins imagines with his new two-hander, presented off-Broadway by Abingdon Theatre Company.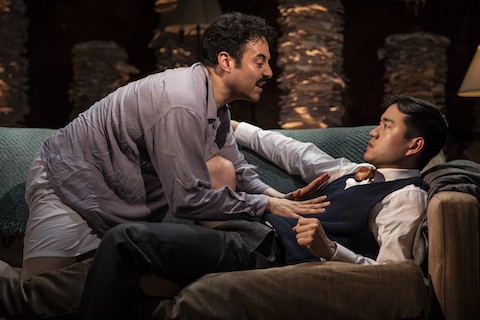 It's 1944 and Williams — louche, loudmouthed, brazen — is awaiting reviews of what will become his first great success, The Glass Menagerie. He pays a visit to Inge — fastidious, buttoned-up, closeted — for a promotional interview in a St. Louis paper. Inge is still an arts critic; it's been suggested that Williams encouraged his playwriting career and the two had an affair. Dawkins' play finds one man trying to compel the other to drop both his inhibitions and his trousers and become an artist himself.
So how does such a historically fascinating, sexually charged premise turn out to feel so tedious?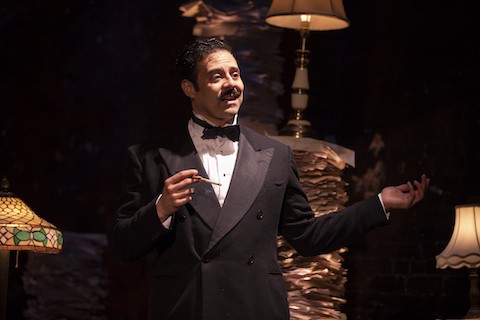 Certainly not from the bold, cross-racial casting that has an actor of Colombian descent, Juan Francisco Villa, as Williams, and Korean-American actor Daniel K. Isaac playing Inge. Though there's no explicit reference to race, its cultural connotations — for a fiery Williams and a reserved Inge — aren't exactly hidden. A refreshing turn of representation may be the strongest asset of director Tony Speciale's circuitous production.
Dawkins demonstrated his hand at creating palpable characters with Charm, his exhilarating play about struggling queer youth, but though these two are based on real men, each one can often feel more like a collection of adjectives. They speak in cliches that would make both playwrights cringe (Williams: "It's possible you've heard of me. I've done a few things, some of which I'll even admit to"), as they circle each other for two hours generating plenty of friction but not much heat.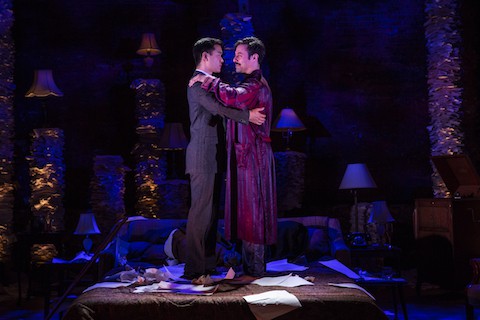 Villa's Williams is our narrator, as if Tom Wingfield were of dirtier mind and higher swish. Sliding in and out of a South Bronx meets Southern dialect, he lays the scene, framing his interactions with Inge — in the latter's garden apartment in the first act, and the second in Williams' hotel suite on New Year's Eve, The Glass Menagerie having recently opened.
Where Williams is all bluster and innuendo, Inge stutters in half sentences, drowning himself in liquor that curiously has no effect. Isaac's performance shows a certain volatility, without quite making clear the tug-of-war between shame and desire that repels and attracts Inge to Williams like a magnet. When Inge reaches what seems like an emotional tipping point near the conclusion, it's difficult to trace what led him there, or where he has arrived, exactly.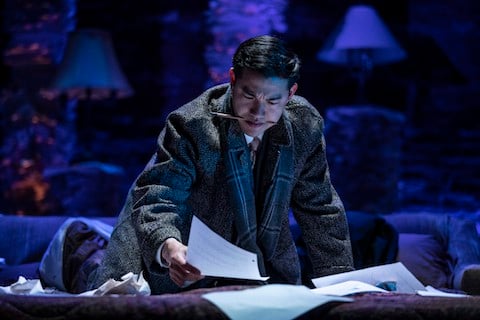 Winding conversations between the two budding minds frequently take sharp turns without warning, maneuvers that might generate drama if we better understood the momentum behind them. But their flood of words seem to pile up like the stacks of loose pages in Sarah C. Walsh's set design. Shaping a wealth of ideas into the coherent drama of ordinary situations — an interview, a rendezvous — are where Williams and Inge both excelled. It's a tough standard to live up to, particularly when your subjects are the artists themselves.
Recent theatre features…
How a Masked Man Ignited the Revolution for Gay Rights in '217 Boxes of Dr. Henry Anonymous': REVIEW
The Most Wig-Snatching Snubs and Surprises of the 2018 Tony Nominations
In 'Transfers,' a Shot at Privilege Means Reckoning with Stacked Odds: REVIEW
Time's Up? Not So Fast: 'Carousel' Is Back on Broadway: REVIEW
Get in, Losers: The 'Mean Girls' Musical Is Fun as Hell: REVIEW
In 'Three Tall Women' and 'Yerma,' Stunning Portraits of Women on the Verge: REVIEW
Chris Evans and Michael Cera Are Men in Uniform in Kenneth Lonergan's Superb 'Lobby Hero': REVIEW
Andrew Garfield and Nathan Lane Star in Electrifying 'Angels in America': REVIEW

Follow Naveen Kumar on Twitter: @Mr_NaveenKumar
(photos: maria baranova)