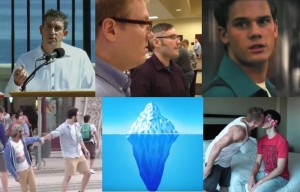 Need a refresher on all the informative, uplifting, sexy, and entertaining LGBT videos from this past week?
Look no further as we look back on the best of the best below:
Vlogger Davey Wavey enlisted a straight guy and Greg and Mitch (the ASAP Science guys) for his latest 'gay kiss challenge' video, a kissing experiment in the name of….science.
Think the straight guy can tell the difference between a straight kiss and a gay one?
Long before shows like Glee and Modern Family, sitcoms in the 1970s and 1980s were slowly breaking ground and bringing  gay visibility to American television programming.
Writer Matt Baume has been combing through sitcoms to figure out when homosexuals stopped being a scary threat and started becoming real people with real lives and emotions.
Featured in the video are clips from Three's Company, M*A*S*H, Cheers, All in the Family, The Paul Lynde Show, Golden Girls, and Soap.
The ad, created by anti-gay Marriage Alliance, stirred some controversy this week when it was discovered they had been aired on the subscription-based Foxtel network alongside ads for Caitlyn Jenner's docu-series I Am Cait.
James Corden took a moment in his Late Late Show monologue Wednesday to weigh in on Dalton Maldonado, the star basketball player at Betsy Layne High School in Kentucky omitted from his yearbook because he is gay.
Gasped Corden: "He's the starting point guard. That's like not putting Tom Cruise on the poster for Mission Impossible."
The Taiwanese Animators are back with another wacky video, this time to take on the gay cake baking controversy playing out in states like Colorado and Oregon.
A surprising, refreshing change of pace after a string of disheartening social experiments from Moscow, Kiev, and Jerusalem.
To mark the re-opening of the U.S. Embassy in Havana this week, openly gay poet Richard Blanco was asked by the Department of State to compose a new poem for the occasion.
Watch Blanco read his "Matters of the Sea" or " "Cosas Del Mar" in the video below.
https://www.youtube.com/watch?v=M1GqJURaTl0
On Sunday's Last Week Tonight, host John Oliver zeroed in on the sorry state of sex education in America, which varies widely between school districts and in some states severely limits what can be taught about homosexuality.
It was only a matter of time before a parody of the Stonewall trailer controversy made its way online.
Zeroing in on the perceived whitewashing and ciswashing of the historic gay rights event, this alternative trailer pulls no punches and aims to group Stonewall with director Roland Emmerich's other "cinematic disasters" such as Independence Day and 2012.
Rowan County, Kentucky clerk Kim Davis and her staff have willfully broken the law again by refusing to follow a federal judge's ruling ordering her to comply with the Supreme Court's decision legalizing same-sex marriage.
David Moore and David Ermold, the gay couple who were humiliatingly turned away in the first Kim Davis viral video, were one of the two same-sex couples to apply for a marriage at the Rowan County office earlier Thursday morning.
Watch the fireworks go down in the video below and get a good look at the faces turning away the gay couple. They might be behind bars before long.
https://www.youtube.com/watch?v=VEuZXrmMn7c
Please click HERE and LIKE our page on Facebook. Select "get notifications" in pulldown menu to receive our headlines in your feed.
Get Towleroad Headlines Daily.
News daily from one of the most trusted, independent, lgbtq owned and operated media outlets. Covering news, entertainment, science, media, art and more for almost 17 years.